The Woodlands Photographer
This is a question we get asked every so often so we figured we'd break it down for you here! We get most of our gear from Adorama or B&H Photo Video.
Canon 5d Mark IV
Canon BG-E20 Battery Grip – So that we never run out of power
Canon EF 24-70mm f2.8L II USM Zoom Lens – This is our go to lens!
Canon EF 70-200mm f/2.8L USM AutoFocus Telephoto Zoom Lens with Hood
Canon EF 85mm f/1.8 USM AutoFocus Telephoto Lens
Canon EF 50mm f/1.8 Lens – If you are looking for a low priced starter lens, this one is awesome! With an aperture of 1.8 it gives you alllll the beautiful bokeh!
Canon Speedlite 580EX II Flash – Not something we use much, but always good to have around!
Extra Canon LP-E6N Rechargeable batteries
Extra AA Batteries – We always have tons on hand because they can power both the camera and the flash.
CF and SD Memory cards plus a case to carry them in
Toys! We always have plenty of toys to share with our youngest clients
Stickers – Who doesn't love getting a sticker after working hard and being beautiful?!
Wet Ones – You never know when someone will get messy
Pens, Hair clips and Pain relievers
Business Cards – A must for every photographer
Permits! We like to stay on the up and up with the locations we shoot at, so if a permit is required, we will have it!
Total Weight before candy, wallet and keys (the essentials): 12 lbs – heavy!
If you have questions, feel free to ask. I love to answer questions for new photographers or hobbyists.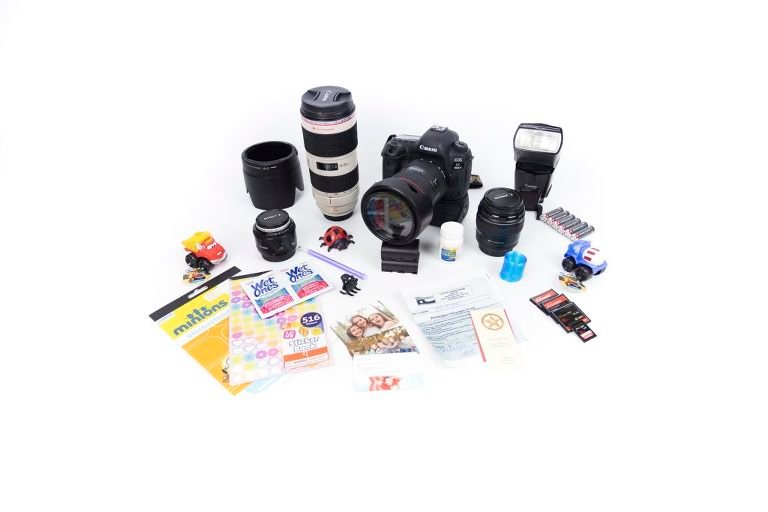 The Woodlands Photographer