Visiting Santa has been a time honored tradition. I'm sure you sat on Santa's lap and told him your list a time or two. But do you remember it with fondness or fear?
At Kara Powell Photography, we want kids to remember their visit to Santa to be something they tell everyone about. We want them to talk about it all year long. For our clients, it is the start to their holiday season.
Each year we have Quiet Time with Santa at our studio. It is not just a photo session. It is an experience that we involve you and the kids into. It is really magical. The kids talk about it all year long and about 99% of our families come back year after year.
We have had Santa Todd with us for over 8 years now. He is a retired school teacher who is fabulous with the kids. He is so quiet and kind with each and every one of them. We go to great lengths to know what your child has done during the year, what they want for Christmas and what they might need to work on. We pass this information on to Santa Todd so he can discuss this with each child. We also send out personal letters to each child before you come, directly from Santa Todd and his reindeers.
There will of course be a naughty and nice list. As well as presents for each child attending. Our studio set is very high-end and you will let you know what the color scheme is before you arrive, in case you would like to match it.
Our experience is around 20 minutes and is a set appointment to you. So there is not rush. We start out with an empty set, just in case your child is a little shy and not sure of Santa. I always ask if it is ok for Santa to come out. Even sometimes having them knock on his door. It is very interactive and fun. Magic is everywhere in our set.
It will truly be an experience that your child or children will not forget.
So if you would like your child's magic to be restored. We would love to have them this year.
20 minute appointment to see Santa Todd
Nov 17 or Dec 8 in Conroe
Packages start at $250 for 5 digital images including video
Home studio – high end decor
Lots of time for kids to get to know Santa with no rush
Each child receives a present from Santa, a letter from Santa before the session and we check in with you to see what Santa should know or ask about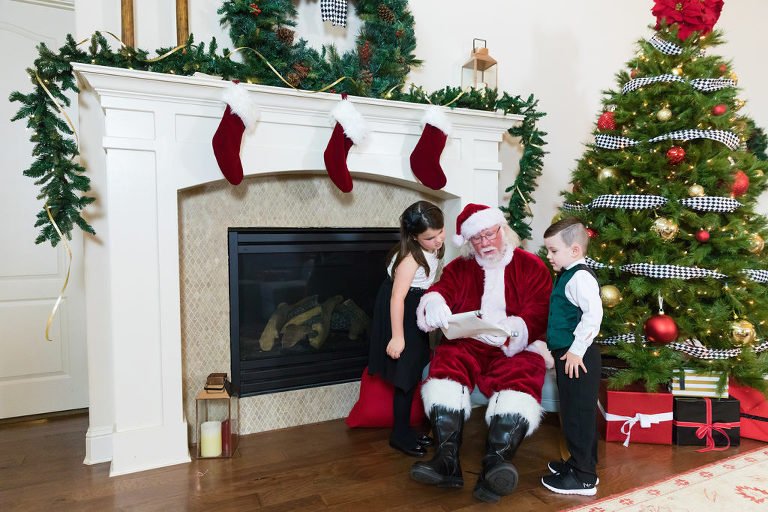 Are you looking for a santa or family photographer? You have come to the right place? Drop me a line and let's talk. Or call me! 832-573-3731. I would love to capture your family in a unique way. Now is the perfect time.